JANUARY 10, 2017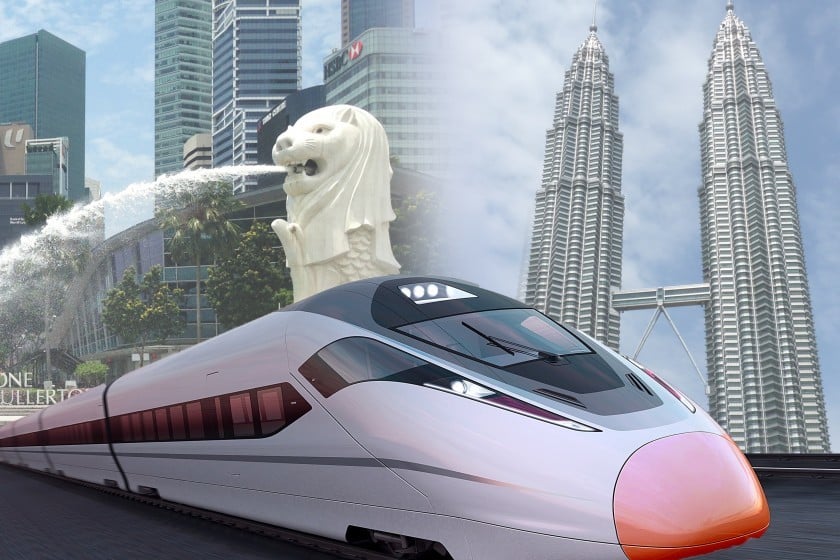 In a rational world, property prices wouldn't move much. So it's a good thing the market is powered by fads and sentiments – this is what allows you to sometimes buy below valuation, and sell above valuation. The downside, however, is that it's harder to avoid the hype than you think. The Singapore-KL High Speed Rail and some events have left lasting lessons.
The Singapore-KL High Speed Rail hype
When the Singapore-KL High Speed Rail (HSR) was announced, property investors went berserk. Now note that the initial news report, in 2013, warned that the target completion date was 2020, and that complications were expected.
Quite a few property investors read that report, but the only thing they managed to see on the entire page was "$". Iskandar and Jurong property heated up even more, on a prediction that the terminus alone would bring a five percent rise in property values.
Now however, the estimated date of completion is 31st December 2026 (which, you will note, may as well be 2027). Those who bought between 2013 to 2015, in the hopes of holding for the short term and then reselling for a profit, are now saddled with at least a 10 year investment. They'd best hope the rental market picks up steam, because they're not likely to get a good price if they try to sell right now.
Besides the extra six years, there's been abundant optimism about Singapore-KL High Speed Rail operations. This is a joint project, so Malaysia can pull out of it at any time. There is also the issue of whether the train will be popular (everything from fares to service quality is undetermined), and whether customs clearance will be just as cumbersome as the causeway link.
In short, those who bank on the Singapore-KL High Speed Rail are taking a big gamble; and the six year delay may just be the first dire omen. Let it be a reminder not to buy into the hype, especially when the hype's for an amenity that doesn't yet exist.
The Iskandar Hype
Iskandar has been a buzzword in the property market since 2012. The idea of a developing, major metropolitan area, close to Singapore and affordable due to the exchange rate, sent a stampede of buyers into the Malaysian market.
But the cracks started to show by 2015, when Minister of National Development Lawrence Wong (at the time a Monetary Authority of Singapore board member) warned of oversupply.
Iskandar has attracted Chinese property developers, who are building in large numbers. This is out of their need to find new markets, outside of slowing developments in China. In 2015 it was estimated that Iskandar would have 336,000 private homes built, more than the total number in Singapore. This was already bad news for investors in the area, as excessive supply drives prices down.
Then Forest City came along, a massive 2,000 hectare project that floods the area with more homes, and threatens to detract from the value of Iskandar. At this point, it would be hard to see room for gains, for many investors who had banked on Iskandar's development. Barring those who managed to get top units (high scarcity and good location), many investors in mass market properties there may be sitting on property liabilities instead of assets.
The simple lesson here? Hype can add or destroy value. Hype can make your property seem more valuable than it already is – but it can also draw plenty of other developments into the area, and eventually work against you.
The Luxury Property Hype
This hype reached fever pitch between 2011 and 2013, which were the property heydays before cooling measures really began to bite. At the time, a combination of cheap mortgages and a strong rental market made high-end properties a "sure win" factor – why buy a mid-range unit and rent it out, when you can get a District 10 condo that "pays for itself" with rental?
Now, a mere three years later, we can see how fragile the situation really was. A Seascape unit, which was bought for $11 million, sold at a $4.65 million loss. This is on top of multiple high-end properties reportedly facing the same situation.
A weakening rental market, combined with rising interest rates, has made the costs of these high-end properties unbearable to some landlords. This is especially the case for those who over-leveraged (before loan curbs kicked in), and bought properties beyond their means because the hype assured them it couldn't fail.
Nomura, incidentally, has pointed out that rent and capital values in our luxury market have corrected 50 percent and 27.6 percent respectively since 2008.
Once the luxury market bottoms out again – possibly by mid 2017, given the pace of falling prices – investors will jump back in. But this time, they will hopefully reconsider the size of the risk they're taking.
Source: 99.co